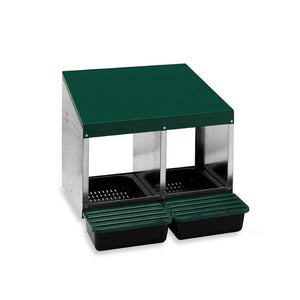 2 Compartment Roll Out Nesting Box for Chickens
Regular price
$84.99
$84.99
Unit price
per
These nesting boxes are designed for your convenience and your hen's comfort. The unique rollaway design will protect your eggs and make them easy for collecting. The panels and roof are made of galvanized steel for a stable and reliable structure when assembled and the trays are made with plastic that won't rust, rot or corrode. These are nesting boxes are designed to last. The nesting compartments are sized for a comfortable fit for medium to large hens and each box can host up to four hens, making this complete 2 compartment nesting box suitable for up to 8 hens. The egg box basket trays have ventilation holes to allow debris to fall through keeping them as clean as possible on a daily basis, they can also be removed for a more thorough clean. When the nesting box is mounted to the side of a coop or barn, the trays slant forward intentionally encouraging the eggs to roll forward so that they are safely underneath the lid. 
If your hens are particularly heavy or you have other resting perches in your coop, this new lid design is the best option for you and your hens. Additionally, if you have issues transitioning your hens from one nesting box to another don't worry, this is completely normal! Visit our blog post How To Introduce Your New Nesting Box To The Coop.
Each individual box measures 10.5 in. long x 15 in. wide x 20 in. high at the highest point. The complete set measures 21 in. long x 19.5 wide x 20 in. high. 
If you prefer to reduce the plastic, check out our Deluxe 4 Compartment Nesting Box with Metal Lid.
Hardware Included
**Includes an instruction sheet with guidance on assembly and installation.
---
Share this Product
---